Chimney Repairs
We offer the full range of repairs to chimney systems, big and small – from mortar repairs to full chimney rebuilds. Contact us today if you are in need of a repair, rebuild, or replacement.
Chimney Caps
Most people do not notice that their chimneys are missing a cap. Some will even be without a cap for several years! You wouldn't leave your window open year around so why leave your chimney wide open? Here at Seaside Sweep we believe it's EXTREMELY important to protect you chimney with a properly installed cap! Here is why:
Water Penetration
Without a chimney cap professionally installed on top of your chimney, rainwater can get into your chimney and land on the smoke shelf. (The smoke shelf is the area directly behind the damper/damper plate. It is a flat, open space that catches anything that falls down the chimney flue. If you are noticing a musty odor, you may have water on your smoke shelf or even in the firebox. Rainwater flowing down the chimney flue will mix with the very acidic creosote which can create that very unpleasant odor that emanates from the fireplace in the warm summer months! A chimney that is wet from rain can lead to mold and mildew issues! Yet another bad odor situation and a potential health risk.
Water Penetration can cause the flue tile mortar joints to become washed out. We see this quite a bit where the original mortar was not mixed properly with a H20 penetrant and will leave large gaps in between the flue tiles. This then becomes a FIRE HAZARD!
Before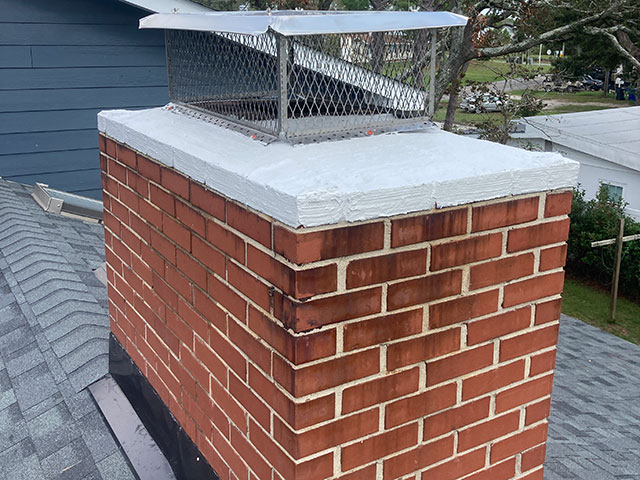 After
Animal intrusion
Another problem that can occur without a chimney cap is the invasion of your chimney by birds , squirrels, raccoons, or other wild animals. An uncapped chimney flue is a deathtrap for animals. You can imagine the horrible odor a dead animal or bird in your chimney can be. The best way to prevent wild animals from entering your chimney is to have a good quality chimney cap that is equipped with mesh metal sides professionally installed at the top of your chimney. Seaside Sweep carries a wide variety of chimney caps, and we can recommend the best one for your chimney and then install it to protect your chimney from water and wild animals.
Spark Arrestor
Without a properly installed chimney cap. Sparks from your fireplace or stove can escape and land on your roof or nearby vegetation.
Contact our certified professionals today to get that "hole to the sky" capped! We have in stock (or can custom make) any style and color of chimney cap that best suits your needs.
Before
After
Crown Repairs
We Repair Chimney Crowns! We use the SaverSystems Crown Coating line of repair products offering a 10 year guarantee.
A masonry chimney must be protected from the elements and serviced, or, at the very least, inspected on an annual basis.
The one major component of a masonry chimney that goes bad is the top or the proper name- crown. The concrete or mortar crown is the first line of defense in keeping water infiltration at bay! They should be constructed with a slope that will allow any water to directly run off of the structure. They take an extreme beating from the weather, the sun and all the elements! It's very common for a chimney crown to deteriorate over time which can crack, wear thin, grow moss or mildew or even fall apart. Water will work its way into these opening and get inside of the chimney cavity or envelope of home!
Before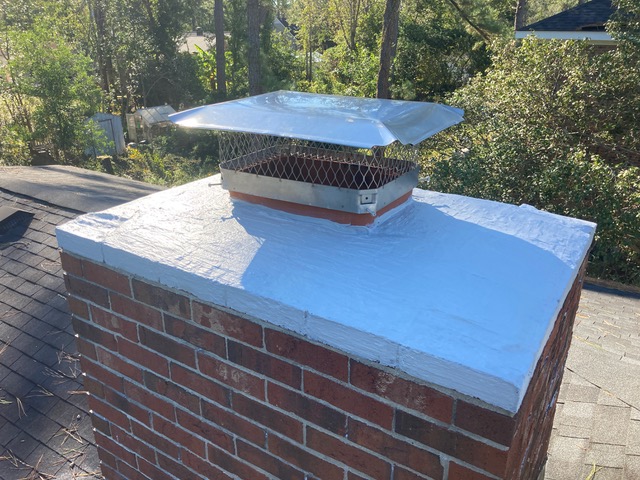 After
Chase Covers
Chase covers are extremely important in keeping your fireplace, chase cavity and envelope of your home dry! H20 intrusion can lead to mold, mildew, rusting and unpleasant odors. Here on the Carolina Coast it is very common for builders to use and install materials made from galvanized steel which is guaranteed to eventually fail. Over time our salty air will rust out and damage your chase covers and cap! Water can make its way into the fireplace itself and start to rust out the top. Replace yours before it's too late and causes any more damage!
Seaside Sweep is proud to be the only local chimney company to custom make your chase covers ON SITE! Our trained technicians will remove and replace your chase cover to be an exact fit within a few hours saving you time and money. We ONLY use stainless steel products and offer a lifetime guarantee on these materials! If you think you need a new chase cover contact our office today and we will send a certified technician to do a free drive by and estimate to repair.
Chase Cover Installation
Chimney Waterproofing
We fix leaky chimneys! Seaside Sweep knows the damage water can do to your masonry chimney and we also know how to prevent it! Water carved the Grand Canyon and if you do nothing to thwart it, this awesome and powerful force of nature will cause slow but persistent damage to your home year after year. Water will literally "rain havoc" on unprotected chimneys. The durability of a masonry chimney depends most of all upon its ability to repel water! Brick, stone and concrete are not as strong and solid as they appear. They will expand and contract with changes in temperature. Masonry absorbs moisture and heat at varying rates, which will cause movement within the structure. Masonry is a very porous material, readily soaking up water. We tell our clients to think of a brick chimney as a giant sponge, because it is one.
The sun's movement across the sky causes "differential expansion." As the temperature on the sunny side rises, the temperature on the shady side falls. This leads to deterioration of the mortar (the mortar is the glue that holds all the brickwork together). Even a chimney that is no longer in service can have an active water infiltration point. Especially a chimney that is no longer in service.
Our CSIA certified chimney inspectors will be looking for mold and mildew growth, mortar joint integrity, cracks/holes and most commonly "water logged bricks". We have The experience and education to offer you a proper remedy to fix your leaky chimney!
Flashing Repair
Our priority is to keep water out of all possible penetrations points of your chimney. Commonly we run into flashing issues where water has worked its way into the home. We seal the metal flashing at the base of the chimney using an industry proven product called FlashSeal. FlashSeal is an elastomeric sealant specifically formulated for permanent adhesion to asphalt shingles, aluminum flashing, brick, and other chimney and roofing materials. This product can go a long way in protecting your chimney against leaks where it meets the roof, and carries a 7-year warranty. Flash Seal is available in Black, Brown or White.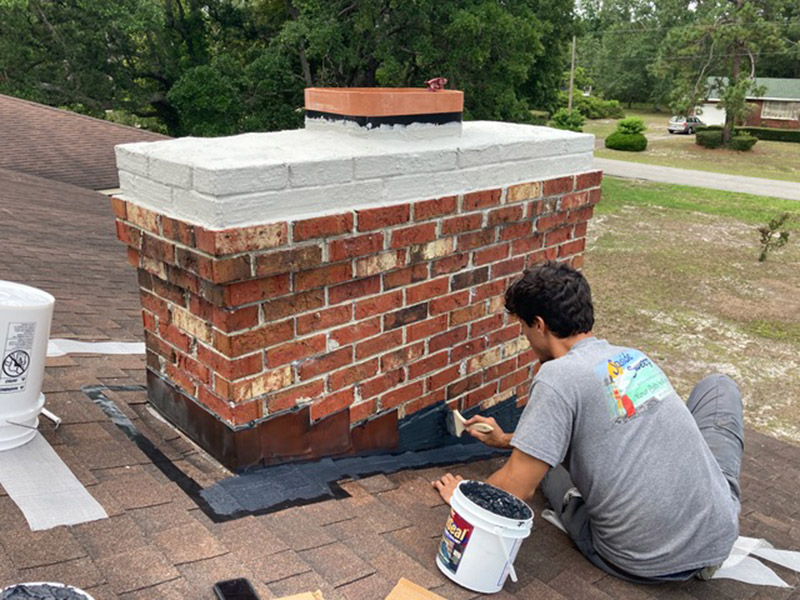 Flashing Repair - During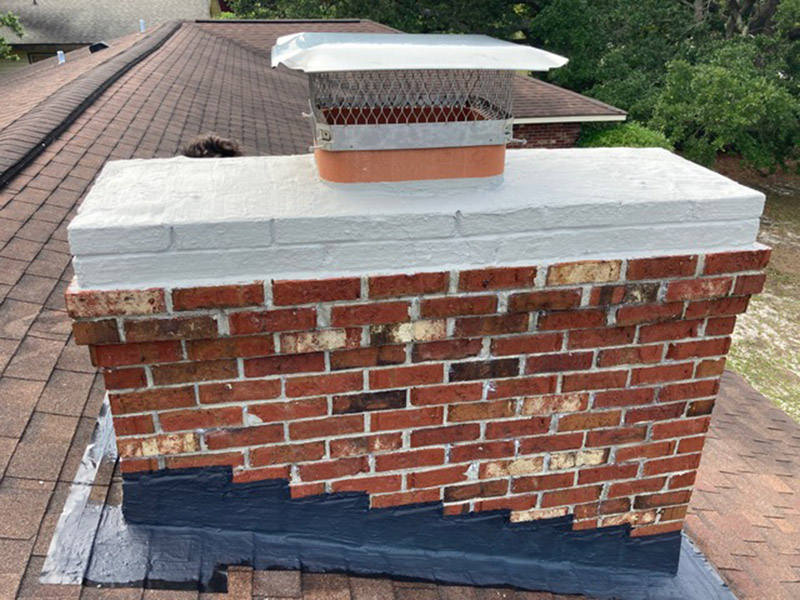 Flashing Repair - After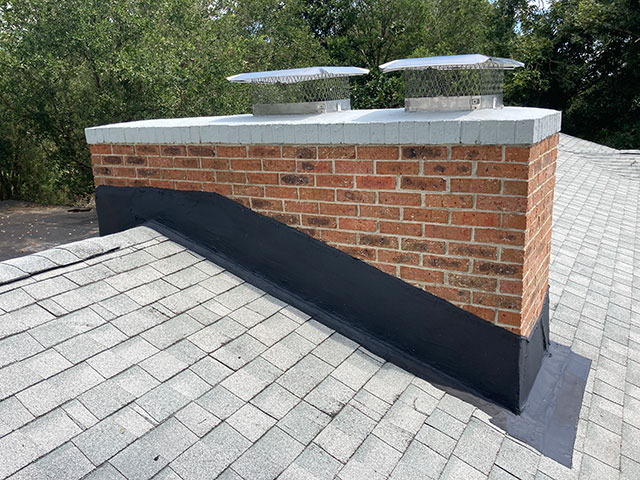 Chimney Flashing
Flashing Repair
Fireplace Rebuilding
Whether your firebox bricks are falling apart or your exterior chimney needs attention, Seaside Sweep is qualified to rebuild or repair your structure. We offer a range or masonry services and will customize a repair tailored to your exact needs and budget. Rebuild services we currently offer:
Firebox Rebuilds (Full or Half)
Custom Outdoor Fireplaces
Tuck Pointing
Crown Rebuilds
Above Roof Line Exterior Chimney Rebuilds
Chimney Tear Downs
Fireplace Rebuilding
Gas Log Set
Chimney Relining
Seaside Sweep is proud to be Wilmington's ONLY trained and certified HEAT SHIELD factory installer! We can also reline your chimney using a stainless steel liner!
Mortar deterioration, spalling, and cracks are just a part of owning a masonry chimney. While installing a stainless steel chimney liner has been a common way to reline clay chimney liners in years past, a new innovative method has emerged thanks to CeCure Chimney Systems. HeatShield®, a specially formulated Cerfractory® sealant, is able to restore & revive your chimney to its optimal safety & efficiency level. The Joint Repair service & Resurfacing System using HeatShield® reconditions your chimney liner so that it works effectively and efficiently to properly vent the hazardous smoke & combustible byproducts from your fireplace out of your home.
Each chimney is built differently so we address each one on a case by case basis. If your chimney needs to be relined or repaired our certified CSIA technicians will inspect and educate you on the most economical and practical solutions to bring your fireplace up to today's modern standards and codes.